Strong Field in Al Ain Chess Classic

A stellar field of 45 top ranked Grandmasters and 14 International Masters head the list of 153 players from 26 countries seeing action in the $50,000 Al Ain Classic Chess Championship from 19 to 26 December at the Hili Rotana hotel in Al Ain.

GM Yuri Kuzubov of Ukraine is top seed in the tournament which boasts 17 players in the high rating category above 2600, namely Ukrainians Yuriy Kryvoruchko, Alexander Areshchenko, Mikhailo Oleksienko, Evgenij Miroshnichenko and Vladimir Onischuk, Belarussian Sergei Zhigalko, Armenians Tigran L. Petrosian and Arman Pashikian, Ivan Sokolov of the Netherlands, Samuel Shankland of the USA, Constantin Lupulescu of Romania, Mikheil Mchedlishvili of Georgia and Viorel Iordachescu of Moldova.

Aside from the host country, the largest contingent is from India with 33 players followed by Azerbaijan with 22 players. National team member GM Rauf Mamedov heads the Azerbaijan delegation while GM Aghijeet Gupta and Vidit Santosh Gujrathi spearhead the Indian contingent. The tournament will be a 9-round Swiss System. Round 1 hostilities start 6pm tomorrow, 19 Dec. Two rounds are scheduled 10am and 5pm on Saturday followed by daily rounds starting 4pm. The last 9th round starts 2pm on Friday, 26 Dec. Games shall be broadcast live on the web. At stake are some US$50,000 for the first 20 places with a top prize of $11,000 for the champion and various category prizes.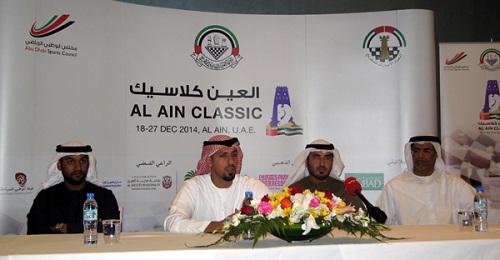 Al Ain Chess Club President Sheikh Sultan bin Khalifah Al Nahyan (second from left) giving a press conference yesterday at the Hili Rotana hotel. In photo are, from left, Dr. Rashed Al Dhaheri, chairman of the UAE Chess Federation Constitutional Commission, Sheikh Sultan, Dr. Saif Al Nuaimi, General Secretary of the Al Ain Chess Club and Engr. Sultan Al Yabhoni, Deputy President of the Al Ain Chess Club.